JAN RAAS
Click on this picture to see it full size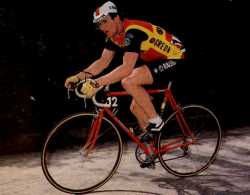 A member of the all-powerful TI Raleigh team that dominated the pro racing scene during the late '70s and early '80s, Jan Raas was a prolific winner able to stand out in a team full of winners.
His first major classic win came in 1977 in Milan - San Remo, a report on which you can find below. It was in his native Holland's only classic the Amstel Gold Race that Raas really shone, only a determined effort from Bernard Hinault in 1981 stopped Raas from achieveing an incredible six wins in a row.
No great tour rider, Raas excelled at one day races. Read more about his exploits in this, our Jan Raas feature...


Rider Profile
Follow this link to our Jan Raas Profile


Raas's Races
In 1977 a young Raas escaped on the Poggio to register a famous win in Milan - San Remo.
In 1978 Jan Raas won the Amstel Gold Race after some hi-jinks among the following cars.
In 1979 Raas was again at the centre of controversy as he took the World Championship.
In 1982 Raas won a thrilling - and dusty - Paris-Roubaix.
Other Jan Raas Sites
After searching the web for some time, I reached the conclusion that this is the first site to deal with Raas the rider in any depth. I found some quotes from him as team manager but nothing of any substance on his riding career. If you know anywhere, please LET US KNOW!
---