BERNARD HINAULT
Click on this picture to see it full size (63kb)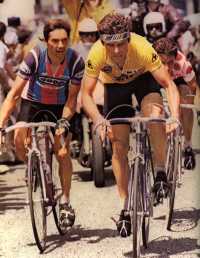 The man they call "The Badger". If only I could have a dollar for every time I wanted to kill Phil Liggett for saying those words during the years that Bernard Hinault dominated the Tour de France, I would be a rich man [writes poor man UD]. At least once during every stage Phil would trot out that most hackneyed of phrases unaware that at least one of his viewers was plotting all sorts of nasty things for him...
To be fair to Phil, only true champions get nicknames in cycle racing, at least nicknames which are know to the public at large. Hinault was a true champion and the closest anyone has come to emulating the astonishing Eddy Merckx. "Monsieur Blaireau" seemed to have that same happy nack of winning any race he set his mind to, except the 1986 Tour de France where he at last met his Waterloo in the shape of team-mate Greg Lemond.
Imagine the impact this young rider had when he burst onto the scene! Suddenly France had a man seemingly good enough to be mentioned in the same breath as Jacques Anquetil - the biggest accolade a French rider could receive.
We're pleased to be able to share with you some reports of those early successes in this our Bernard Hinault feature...


Rider Profile
Follow this link to our Bernard Hinault Profile


Hinault's Races
Our Hinault Pictorial portrays Mister Badger's distinguished career.
Hinault's first classic win was in the 1977 Ghent - Wevelgem
A few days later he won Liège-Bastogne-Liège and the question being asked was "have the French found a New Saviour?"
With a dominant display, Hinault rode away from the field to win the 1980 world road title in his native France.
In 1981 Bernard Hinault wore his rainbow jersey to victory in Paris-Roubaix, the first French winner in over 25 years.
Other Bernard Hinault Sites
"Go Ride!" Hinault Profile
1979 Tour
1982 Tour
Not his "finest hour" - the 1986 Tour
---