Amstel Gold Race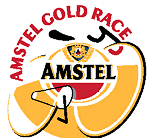 Even though we now think of Holland as one of the major cycling nations, a cursory glance at the record books shows no major Dutch successes until after the Second World War. No surprise then to find that the only Dutch classic dates from 1966. Long established as one of the season's major races, its status seems assured as long as there are World Cup points on offer and Dutch fans to line the route.
With its numerous hills, narrow roads and rolling countryside backdrop, the Amstel Gold race is indistinguishable from its older Belgian neighbours and produces some exciting races. Despite its relative youth, its list of winners includes most of the top riders who have ventured out in the unpredictable northern European spring in search of success - Merckx, Raas, Maertens, Knetemann and Museeuw have all won here. It wasn't until the race had been in existence for 30 years that the first Italian - Stefano Zanini - won, probably something to do with the weather...
Enjoy this unique event with our features and links...


Hilly Holland
In 1978 Jan Raas won after some hi-jinks among the following cars"
In our Potted History Andy Powers describes the race, its history and the riders who have excelled
Other Amstel Gold Sites
Bob Schwartz's Amstel Gold Winners List
Bill Mitchell's Feature on the 1996 Race
Report on the 1997 Race
Report on the 1998 Race
Return to the Jan Raas page
---